Powrwheel R&D Tax Credit Claim
Business Solutions (Mildands) made a successful R&D Tax Credit claim for Midlands based caravan mover manufacture - Powrwheel Ltd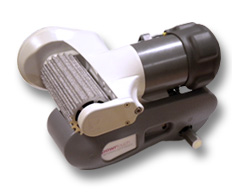 Company Overview
Powrwheel Limited has continued to go from strength to strength and is now the UK's number one manufacturer and supplier of caravan moving systems. The company have been selling remote controlled caravan movers into the caravan and leisure industry for over 12 years, and have out-sold all other mover suppliers in recent years as more and more customers realise the value for money and peace of mind their products provide.
Working to ISO 9001 quality standards, Powrwheel's fully skilled and trained workforce boasts over 40 years manufacturing experience, of which 20 years includes the design, manufacture and supply of caravan movers. Comprehensive quality auditing of products in their cutting edge factory means they offer their customers the finest quality systems at the most competitive prices available.
Successful R&D Projects
PowrTouch Evolution Caravan Mover
The mission was to develop and produce a new caravan mover that had low material costs, better technical specifications but be in the right price bracket in order to tempt the end users to buy Powrwheel.
To summarise, the main technological advancements were:
Centrally aligned roller engagement, ensuring a no hassle operation
Unique engineering design ensuring the motor and gearbox are centrally aligned to the caravan tyres, thereby ensuring the rollers are engaged with maximum effectiveness providing ultra-efficient power and traction.
Use of modern lightweight materials ensures not only a significantly lighter, but more durable and robust mover.
UK developed, manufactured and quality controlled to the highest accreditation ISO9001:2008 and TUV approvals
The Process
The methodology Business Solutions (Midlands) Ltd utilise when engaging with the customer is a step by step approach making them aware of what info is required at each stage and why.
Telephone discussion to ascertain eligibility.
Initial customer meeting on site to discuss financial information and potential projects to be highlighted.
Regular contact by phone, email and in person to walk the customer through the process.
Collation of financial spreadsheets and technical report by Business Solutions (Midlands) Ltd.
Submission to HMRC through Business Solutions (Midlands) Ltd Chartered Accountant.
R&D Tax Credit Claim Total
The initial 2 year claim was successful to the tune of £48,000.
Company Feedback
"Business Solutions supported us every step of the way through this process, from the initial meeting which opened our eyes to a scheme we had not thought we were eligible for, right the way through to claim submission. As a company we are very pleased with the significant sum we successfully reclaimed and are looking forward to work with BSM for our future R&D Tax claims."
Mr Phil Clark, Managing Director at Powrwheel Ltd
What are R&D Tax Credits?
Am I eligible for R&D Tax Credits?
What are the costs for R&D Tax Credits?
What is the R&D Tax Credit claim process?
Why choose us to make your claim?
Common R&D Tax Credit claim issues
Top tips for R&D Tax Credit claim success