Malthouse Engineering R&D Tax Credit Claim
Business Solutions (Mildands) made a successful R&D Tax Credit claim for West Midlands based engineering company - Malthouse Engineering.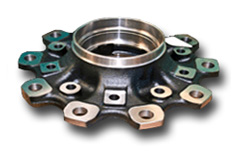 Company Overview
Malthouse Engineering was established in 1947 and is renowned throughout the industry for providing the best possible steel profiling (flame cutting) service in the UK and have grown significantly to become the country's largest independent profiler with facilities at Oldbury, Wednesbury, Wakefield, West Bromwich and Worcester. It has in the order of 80 employees. The Company supply 42 different industries across the UK and Ireland, including light and heavy automotive, medical, nuclear and construction, using their own logistics team to deliver their products.
Malthouse Engineering has a philosophy of finding ways that increase efficiency and reduce costs as well as offering innovative process development for technically difficult products. This culture is spread throughout the Company, from highest management to the shop floor, and a system that offers incentives for all employees to come up with original ideas that can be implemented, has been established. This is backed up by the management's desire and engineering expertise to approach all ideas and the Company is willing to develop any program, however large or small.
R&D Projects
Factory Conveyor System Development
Malthouse have designed and developed a unique and patentable conveyor system for the automatic removal of scrap metal from underneath the cutting beds. The Company believes it is the only system like it in the world, as very few companies have considered the concept of automatically removing items from underneath the cutting bed and would typically use labour with large scrapers to manually remove the items. This is a prime example of Process Development improving process efficiency and creating a safer working environment
Heavy Duty Bracket Process Development – SCG Solutions Ltd
SCG Solutions produce components for the rail industry and they came to Malthouse with one of their most difficult components, which they have been outsourcing production to a manufacturer in Barcelona. The components compromise of four different shaped brackets, each made from 17mm thick steel, and are used for the safety control boxes that will direct trains, prevent them from going through red lights on the forthcoming Crossrail link in London.
The problem was that manufacturing cost of these components was soaring as reject rates were incredibly high; less than one in ten were being made to acceptable tolerances. The existing manufacturer was using a traditional cold forming process to press the blank steel into shape and this was creating cracks on the bends and corners, which then needed to undergo further work to be polished down, built up and then strengthened using a heat treatment process.
Malthouse decided to experiment with a hot forming process, which has its advantages over cold forming in that the metal is easier to shape but control over the dimensional accuracy is greatly reduced. Hot forming also has an advantage in that the finished product does not need heat treating afterwards, but the process does require a greater energy consumption.
Malthouse now very accurately flame cut the blank steel, send the components to be hot formed, and finally completing the grinding stage back at the factory. The new process represents a large increase in efficiency, at a lower cost and is yielding a zero reject rate, which the customer is extremely satisfied with
The Process
The methodology Business Solutions (Midlands) Ltd utilise when engaging with the customer is a step by step approach making them aware of what info is required at each stage and why.
Telephone discussion to ascertain eligibility.
Initial customer meeting on site to discuss financial information and potential projects to be highlighted.
Regular contact by phone, email and in person to walk the customer through the process.
Collation of financial spreadsheets and technical report by Business Solutions (Midlands) Ltd.
Submission to HMRC through Business Solutions (Midlands) Ltd Chartered Accountant.
R&D Tax Credit Claim Total
The initial 2 year claim was successful to the tune of £178,000.
Subsequently, BSM have submitted addtional '1 year' claims, which have also been successful, generating further 'five-figure' returns for the company.
Company Feedback
"We tried 3 different companies to claim our R&D Tax Credits without success. After discussion with Business Solutions (Midlands) we could see that they had a different approach as scientists and engineers, as opposed to accountants. We gave them the opportunity to put our claim together and were very pleased with the bite size stage by stage approach they took. The way Business Solutions worked with us was painless.
Most importantly we were extremely pleased with the substantial financial return and are looking forward to them doing future claims and indeed, those of our close contacts."
Roy Taylor, Managing Director at Malthouse Engineering
What are R&D Tax Credits?
Am I eligible for R&D Tax Credits?
What are the costs for R&D Tax Credits?
What is the R&D Tax Credit claim process?
Why choose us to make your claim?
Common R&D Tax Credit claim issues
Top tips for R&D Tax Credit claim success